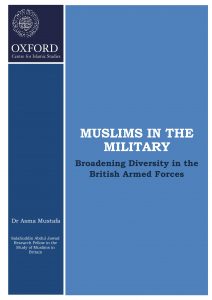 Given the low representation of British Muslims in the Armed Forces (Muslims make up 0.4% of the UK regular forces, compared to 5% in wider British society), a career sector that is keen to increase its personnel diversity, and the higher unemployment levels experienced by British Muslims, how can we better understand and resolve the recruitment gap?
In this report, research findings are presented that highlight young British Muslim attitudes towards Armed Forces careers and examine why these attitudes may exist. Data was collected through interviews, focus group discussions and an online survey about career decision-making aimed at young British Muslims; and supported by in-depth interviews with British Muslim Armed Forces personnel. Recommendations are made regarding widening diversity in the Armed Forces.
This report is based on a two year research project funded by the British Academy.
Report on Muslims in the Military – Broadening Diversity in the British Armed Forces
British Academy Summer Showcase (June 2018) exhibition 

(Credit: British Academy, Benedict Johnson)

(Credit: British Academy, Benedict Johnson)